Reading Time:
9
minutes
Who else wants to know when to buy & sell stocks without spending countless hours doing all this analysis on your part?
Wouldn't it be nice if you could take the emotions out of investing?
It's easy to buy. But it's not always easy, to know when to sell.
You could:
Follow your gut
Watch all the TV financial shows and get mixed opinions, delay your decision making, and stay on the sidelines.
Get tips by the water cooler from your colleagues.
or
You could simply have a trading algorithm which tells YOU when to buy and when to sell, based on trend analysis and other signals.
But what if there was a way for you to know EXACTLY when to Buy / Sell stocks or ETF's, with a simple alert in near real time, sent to you. Sounds cool eh?
I know there's a lot of stock research software out there, newsletters, sending you alerts, but from my experience (and I've tried a lot of them them), they have their own quirks.
What I really don't like about them is they have general recommendations. Many have no specific target price and a broad time frame.
Some even have silly monikers, like Overweight, Underweight, Neutral, etc.
Then there are even services which have broad measurements on accuracy of the analyst recommendations.
It's hard to follow who the real winners are because of lack of standardization.
But what's make them worse or useless is, as the market changes, so do their price targets.
I've literally seen some services change their stop loss price target as the market moves, in real time.
What good is that? It's like a moving target.
Isn't it time you have provided to you the EXACT buy / sell signals, which price the alert is at, which doesn't change.
You can always go back and look at their historic signals and at what price the signal was issued to compare.
It doesn't get any easier than this.
In steps MarketClub by INO.
So, what exactly is MarketClub?
MarketClub is an online set of trading tools that tells you when to buy and sell stocks, futures, forex, etfs, and mutual funds.
They even have bitcoin buy / sell signals.
It provides advanced screening and data tools that help traders gain an edge in the markets.
Founded in 2002 by Adam Hewison, MarketClub is used by more than 200,000 traders in over 91 countries worldwide.
The entry and exit (buy/sell) signals are called Trade Triangles, which point towards the strongest market moves with momentum and technical support.
Their algorithm tells you when to capture profits or get out, within the safety of the strongest trends.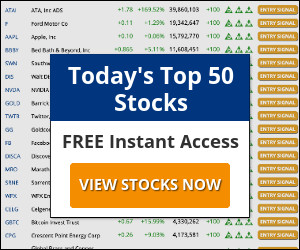 Free Instant Access – Top 50 Stocks!
These signals have been working for me for years, and this is what it looks like when their Trade Triangle signals are issued.
Now back to the root of the matter…
Like most people, you probably want to know is MarketClub worth it for you?
That question is like asking, "Can I succeed in real estate?"
Truthfully, I have no clue!
I don't know if you know what you're doing, or if you're willing to learn, or if you will follow their signals.
I don't know if you're going to bail when it gets tough, or if you are willing to really push yourself.
I can only tell you what I've done to make money with MarketClub.
The simplicity of knowing when to buy and sell – without guessing or going with my gut feeling, but instead using their signals.
You have to try it, to see if it will work for you.
Remember TRUST but VERIFY.
And verifying is really easy.
I'll tell you exactly how to test MarketClub.
Pull up any stock with good trading volume.
Jot down on your notepad:

The price of the entry signal
The price of the exit signal
Find the difference between the entry and exit prices
Then add up all of the winning trades
Subtract the losing trades
See how the signals performed
It's that simple. Proper due diligence is verifying for yourself, NOT chasing opinions.
Don't even believe me.
My opinion isn't putting money in your pocket.
You join, you verify.
Plus you can go back after you join (even during trial) and look at the historic prices with the price recommendations of their signals.
That should make you a believer as you've done your due diligence.
How do Market Club's Trade Triangles work?
Green Trade Triangles signify uptrends
Red Trade Triangles signify downtrends.
When the Trade Triangles for more than one time frame match, it's time to take a position and ride the trend!
Here's an few examples of their signals in action on the TSLA stock
The M – Monthly buy signal (long range) tells you when to Buy / Sell based on monthly trends.
The W – Weekly buy signal (intermediate range) tells you when to Buy / Sell based on weekly trends.
The D – Daily buy signal (short term) tells you when to Buy / Sell based on daily trends.
* This prices you see for TSLA is split adjusted. TSLA split on Sep 1 2020 for shareholders of record on Aug 28 2020*
The chart above shows the Monthly buy signal (for long term traders) on TSLA, it was back on 10/24/2019 when the stock was at $53.
Then they issued a Weekly sell signal came on 2/27/2020, when stock was at $134, locking in a nice gain.
Then another Weekly buy signal on 4/7/2020 when the stock was at $112
Then another sell Weekly signal on on 8/11/2020, when the stock was at $273
Then another Weekly buy signal on 8/17/2020, when the stock was at $333.
Then they issued a Daily sell signal on 9/2/2020, when the stock was at $437.
Locking in some nice gains. You get the idea.
So, in order to profit off a trending market, you first need confirmation that a trend is actually in place.
The good news is MarketClub does all this for you, using its proprietary technology.
MarketClub's algorithm will place a checkmark by each triangle to let you know if it spots a daily trend, weekly trend or a monthly trend, and send you an alert!
The rest is up to you to follow, if you choose.
Does MarketClub really work?
Anybody can make money in a booming stock market. Well almost anybody. But how one does during a downturn or gives you some timely signals, is to me where the rubber meets the road. Who doesn't want to get out before a big downturn?
On 12 February 2020, the Dow Jones Industrial Average, the NASDAQ Composite, and S&P 500 Index all finished at record highs. (while the NASDAQ and S&P 500 reached subsequent record highs on 19 February).
This year 2020, the market started taking a beating.
In fact, the stock market crash began on Feb 20 2020.
Now let's take a look at the chart of the S & P 500 and MarketClub's Trade Triangle system at work.
They issued a Monthly sell signal on 2/27, when the S & P index as represented by the SPY (etf) was at $303
On Mar 23 '2020, the low point of the S&P SPY ETF was trading at $222.95, saving you're portfolio a good amount,
Now if this is not a timely signal, then I don't know what is.
Let me repeat, they issued a sell signal when the etf of S&P was at $303. before the low point on $222.95.
Where it gets even better is they issued a Weekly BUY signal on 4/7 and rode the wave all they way up till September 8 2020, when it SPY was trading at $338, locking in a nice gain.
Now you be the judge. It's clear to me, that the their trade signals speak for themselves.
I repeat:
2/27/2020 Monthly SELL Signal @ $303.22
4/7/2020 Weekly BUY Signal @ $271.49
6/5/2020 Monthly BUY Signal @ $313.55
9/8/2020 Weekly SELL Signal @ 338.45
Clear signals with exact prices and no need to do your own chart analysis! Now you be the judge! It can't get more easier than this, imho!
Free Instant Access – Top 50 Stocks!
All you have to do is set up how often you want to receive the email alerts and let their system do the monitoring and tell you when to buy / sell .
So what's included in the subscription?
Trade Triangle signals that tell you when to enter and exit a position.
Market scanning tools that find profitable opportunities within your trading style.
Email alerts that keep you up to date on all of your positions.
Portfolio manager applications and interactive charts to help keep your positions organized.
'Top market' lists of the best stock, ETF, futures and forex plays at any point in time.
Access to educational videos and audio seminars.
Historical data for over 300,000 securities with the ability to organize end-of-day data instantly.
Access to MarketClub's members blog where you receive support, trading tips and share ideas.
So what are you waiting for?
Click here to Sign up for the 30-day $1 trial
OR check out their stock of the week for FREE!
Conclusion
So no, MarketClub is in my opinion not a scam, but a well established company around since 2002 established by traders, for traders.
Here are the 3 reasons I I feel MarketClub is the best stock advisor service out there.
I found several winning trades and their signals gave me good timing before the downturn
Absolute simplicity, with buy / sell signals with specific pricing, which doesn't change after they've issued it.
Ability to set up email alerts based on rules / triggers I select based on their advanced signal technology.
Their unbiased tools are based on time-tested algorithms and market-proven analysis.
Isn't it time you Improve Your Market Timing with MarketClub's Entry & Exit Signals?

Stock of the Week : Free – expertly-researched, quality stock pick every week! >>

DISCLAIMER: All stock, options trading, and technical analysis information on this website is for educational purposes only. While it is believed to be accurate, it should not be considered solely reliable for use in making actual investment decisions. This is neither a solicitation nor an offer to Buy/Sell stocks, futures, options, etc. Futures and options are not suitable for all investors as the special risks inherent to options trading may expose investors to potentially rapid and substantial losses. You must be aware of the risks and be willing to accept them in order to invest in the futures and options markets. Don't trade with money you can't afford to lose. No representation is being made that any account will or is likely to achieve profits or losses etc.
U.S. Government Required Disclaimer – Commodity Futures Trading Commission
CFTC RULE 4.41 – HYPOTHETICAL OR SIMULATED PERFORMANCE RESULTS HAVE CERTAIN LIMITATIONS. UNLIKE AN ACTUAL PERFORMANCE RECORD, SIMULATED RESULTS DO NOT REPRESENT ACTUAL TRADING. ALSO, SINCE THE TRADES HAVE NOT BEEN EXECUTED, THE RESULTS MAY HAVE UNDER-OR-OVER COMPENSATED FOR THE IMPACT, IF ANY, OF CERTAIN MARKET FACTORS, SUCH AS LACK OF LIQUIDITY. SIMULATED TRADING PROGRAMS IN GENERAL ARE ALSO SUBJECT TO THE FACT THAT THEY ARE DESIGNED WITH THE BENEFIT OF HINDSIGHT. NO REPRESENTATION IS BEING MADE THAT ANY ACCOUNT WILL OR IS LIKELY TO ACHIEVE PROFIT OR LOSSES SIMILAR TO THOSE SHOWN.
All trades, patterns, charts, systems, etc., discussed in this message and the product materials are for illustrative purposes only and not to be construed as specific advisory recommendations. All ideas and material presented are entirely those of the author and do not necessarily reflect those of the publisher or INO.com.
DISCLOSURE: THIS POST MAY CONTAIN AFFILIATE LINKS, MEANING I GET A COMMISSION IF YOU DECIDE TO MAKE A PURCHASE THROUGH MY LINKS, AT NO COST TO YOU. PLEASE READ FULL DISCLOSURE HERE.